Premium Beautiful is like a custom made corset. It doesn't have the standard S,M,L,XL sizes but it is created according to your body type and measurements. this is what made Premium Beautiful different as it can fit to all type and body sizes. And not to forget how comfortable it is to wear Premium Beautiful for 8hrs per day. Sampai right now if I'm not wearing my PB for a day, rasa macam my day tak lengkap. That shows how important Premium Beautiful is to me =)
So, how do your measure your size? Well, ader 4 measurements that you have to take.
And important to make sure the measurement mesti kena dalam
cm / sentimeter
.
First of all, measure your bust (dada / puncak).
Bust
Then, measure you underbust (bawah dada).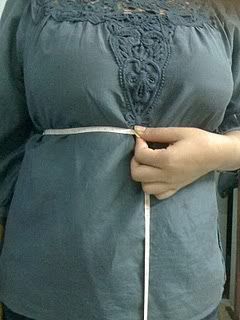 Underbust
Third, measure your waist (pinggang).
Waist
Lastly, measure your buttock (punggung).
Buttock
Provide all of the measurements to me, and I'll convert them to your Premium Beautiful nyer size...:) As simple as that.
If you would like me to measure you, just give me a call, yer. anywhere area Klang Valley, I could go, inclusive of Klang & Kuala Langat area. Kalau yang tinggal jauh, I can courier the set to your door step =)
Cepat2 get you Premium Beautiful now!! :) comfirm 100% satisfied!!!
Nisa Yasir
ainunnisa@yahoo.com